Empire Ekphrasis | Poems
by Shadab Zeest Hashmi
Author's Note: In this series of poems, I see works of art and music through the filter of imperial history and I attempt to find contrasts between the impression of indulgence reflected in an empire's sensibility and its paucity of connection with the larger beauty and spirit of ordinary life. While art may boast and boost the power of an empire, and empire may afford (some) artists the luxury to indulge in art for art's sake, the history surrounding the aesthetic language of empire, especially the history of oppression, resides in it permanently as a haunting presence. — SZH
Strawberry Thief Singing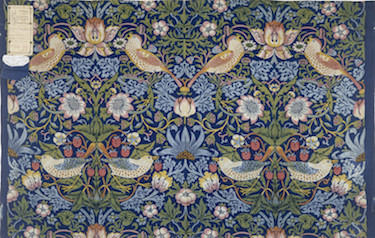 William Morris, Strawberry Thief (textile design)

The thrush, caught jubilant, after stealing 
ripe fruit from the artist's garden, goes to 
a prison of textile, serves a sentence 
of centuries in cotton, needles passing 
through her feathers, stitches on the sigh
(or the ghost of song) in her bill, on wings.
She will be stretched on Raj furniture
across the commonwealth, a souvenir
in chintz, her crime displayed on bedspreads.
She will hang from windows, a doll of the wind.


A Prince and his Falcon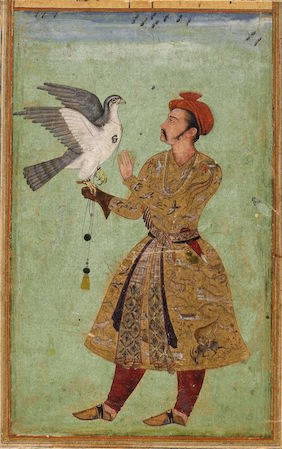 A Mughal Prince with his Falcon,
India, Mughal Empire, circa 1600-1605

The Mughal brushstroke is thirsty for hunt.
Mares, moonlit steppes, skull heaps, coils of Mongol 
destiny come back as Indian henna tendrils, 
geese, cheetahs, antelopes embroidered 
on a prince's tunic, sword sweating falsities
tied with a brocade sash. The prince, vacuous,
the shape of a question, the falcon, impenetrable;
its metallic gaze humiliating, 
golden tassels wrapped around its leather 
perch, plumage full, mass of unbidden history.


The Four Horns in the Afternoon of a Faun,
Claude Debussy, Prélude à l'après-midi d'un faune,
after Stéphane Mallarmé's poem of the same name

two bassoons, three flutes, two harps, oboes. 
Plus the heat of strings at midday, cirrus, 
that squirrel-colored wisp of cloud curling 
around the faun, leaves nothing to chance: 
each blade of grass is art-hungry, upturned
to receive a dewy gem fattened by 
slender nymphs. A man, golden as goat,
beast of meadows, a climber who shears 
innocence to fabricate innocence, 
goes on crowning himself, girdled by dream. 


The Sheikh and the Tiger
having just offered prayers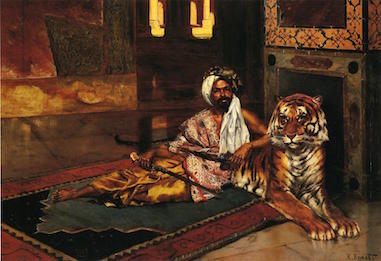 Rudolph Ernst, Sheikh with the Tiger

sprawl on the cavernous, velvety shelf 
of the Orientalist's fantasy.
There are no charmed constrictors, 
lutes or water-pipes snaking between empire
and voyeur, but a curious Sheikh with skin
a shade less copper than the tiger, both 
beast and beast stretched in ultimate luxury
on the prayer carpet. The sheikh in diaphanous 
silk has somehow exited the sacred moment with
one arm bare, muscular, sinister—etched in the future.


The Awakening Conscience
swaddled in red chintz
William Holman Hunt, The Awakening Conscience

panics, rises from empire's lap, finds you,
dear viewer, between her clasped hands, and you,
doused in cold sweat, have only a mirror 
behind her to show you light from the window
ghosting through trellis and tree. Time, in
sudden primal shame, stands naked under 
a glass dome on the blustery piano.
She steadies herself, feet between empire's limp 
glove and the spasm of wings—the feline grasp
unlocked. Window: a giddy call echoed by mirror.


---
Shadab Zeest Hashmi's poetry has appeared in Prairie Schooner, Poetry International, The Cortland Review, Vallum, Nimrod, Atlanta Review, POEM, The Bitter Oleander, Rhino, Journal of Postcolonial Writing, Hubbub, Spillway, The Adirondack Review, Drunken Boat, Split this Rock! Himal, and other journals worldwide. She has taught in the MFA program at San Diego State University as a writer-in-residence and is the recipient of the San Diego Book Award, Nazim Hikmet Poetry Prize, SAARC medal for Literature, and Stout Award. Her work has been translated into Spanish and Urdu.